Innovative and informative cheese, olive oil/olive product and honey/carob tastings for small groups (get in touch with us.).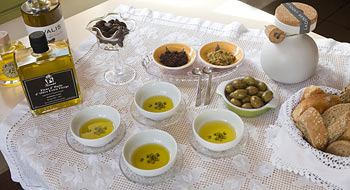 1. VERTICAL TASTING OF 5 EXTRA VIRGIN OLIVE OILS FROM THE FOLLOWING 5 REGIONS OF CRETE: MESSARA, PEZA, ARCHANES, NEAPOLI, SITIA.
First there will be a brief introduction to olive oil in Crete (olive varieties, production methods, acidity levels, etc.). This is followed by a discussion on "How to Taste Olive Oil (The "Four S's") and what to look for when tasting; what organoleptic traits are desirable and undesirable. The tastings will take place in groups of 4: each of the 5 olive oils will be on a table along with paximadi, green apple slices and sparkling water for palate cleansers and each guest will have tasting spoons to taste the oils.
2. TASTING AND DISCUSSION OF NEW FLAVORED EXTRA VIRGIN OLIVE OILS, INCLUDING SUGGESTIONS FOR USE.(citrus-based, herb-based, truffle and smoked).
3. TASTING OF OLIVES AND OLIVE-BASED PRODUCTS SUCH AS TAPENADES, CHUTNEY and OLIVE MARMELADE.
DURATION: 1.5 HOURS
MINIMUM: 4
MAXIMUM: 16
PRICE (4-10 pax): 12,00 € per person
PRICE (11-16 pax): 10,00 € per person
Price Includes: Tasting of all products, Palate Cleansers and 10% discount on ALL olive products in the store.