Innovative and informative cheese, olive oil/olive product and honey/carob tastings for small groups (get in touch with us.).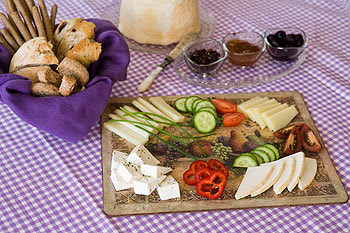 1. TASTING LUNCHEON CONSISTING OF 5 SPECIALLY SELECTED WINES CAREFULLY CHOSEN TO MATCH WITH A WIDE ASSORTMENT OF ARTISANAL CHEESES, AS WELL AS SOME TRADITIONAL CRETAN CHARCUTERIE.
A landmark for any gourmand traveler, this classic tasting of one of the most pleasurable food & drinks partnerships, has been designed as a fun and informative way to spend a meal in Archanes learning about Cretan wines and cheeses. Our expert will guide you through this tasting lunch and show you how to create relationships where the cheese and wine bring out the best in each other.
DURATION: 1.5 -2 HOURS (Including time to shop)
MINIMUM: 4
MAXIMUM: 20
PRICE (4-10 pax): 25,00 € per person
PRICE (11-20 pax): 22,00 € per person
Price Includes: Lunch with 5 wines/minimum 5 cheeses/charcuterie/ bread & rusks, Tasting Notes and 10% discount on ALL cheeses, charcuterie and wines in the store.